My sister laughs at me because I get annoyed at the attention I get from guys. Until I moved here I had never had anyone actually start a conversation with me by talking about
the weather
. Oh my. First of all, this is Las Vegas, there are only two temperatures: hot and unbearable. Secondly, hello cheesy line!
Elizabeth was busting up while telling Jayar about a guy who walked by me in the Wal-Mart parking lot and said, "It's getting pretty chilly" (or something like that) because I laughed and said, "Not really." and got in my car. Bwa ha ha.
They're never 20-somethings; always mid-30's who are probably "livin' in your parents cellar, downloadin' pictures of Sarah Michelle Gellar" and would only stare harder if I were wearing a Star Wars shirt. (Ok, let's be honest, I just couldn't find my "Vader was framed" shirt, and I totally just quoted Weird Al...I'm so nerdy.)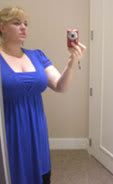 Today I went on some errands wearing the blue dress pictured, my red leather jacket, and white heels. As I was walking into a store a guy walking out of the building stopped and said, "You look
really nice."
Hahaha.
Elizabeth tells me, quite loudly, "YOU HAVE TO START BEING NICE TO THESE GUYS!" Hahaha