Sometimes (ok, often) there are some extreme perks to living in a place like Las Vegas rather than Orem when it comes to my career.
Tonight I attended a little workshop about getting into hair & makeup in the theater/film business by James Ryder.
So freaking cool!
He did Vincent D'Onofrio's makeup for about seven films, including
The Cell
("J.Lo can't act her way out of a paper bag.") and I got to check out the yak hair horns Vincent had glued to his head in that movie. Way cool.
James also did the makeup for the movie
Ghost World
(Thora Birch, Scarlett Johanssen, Steve Buscemi)
, so I totally thought of
Laura Llew
the whole time.
He also did the makeup for
Election
(Reese Witherspoon, Matthew Broderick);
Go
(Katie Holmes, Scott Wolf, Joy Mohr);
Wet Hot American Summer
(Janeane Garofalo, David Hyde Pierce, Michael Ian Black, and my L&O:SVU boyfriend Chris Meloni),
and others you can read on his
imdb page
I geeked out and asked to take pictures with him.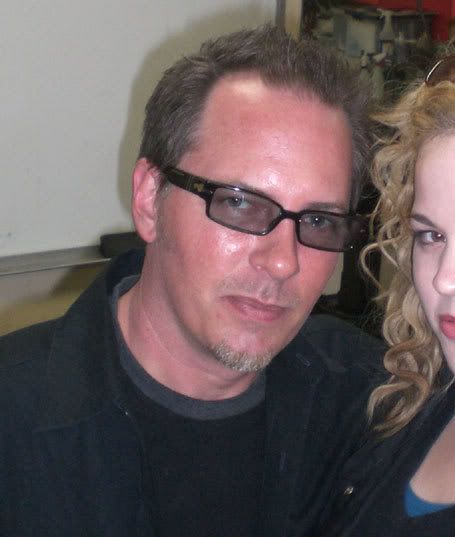 James Ryder and me. Cropped because it was a horrid picture of me.
I need to get $120 to register this weekend to attend a workshop he is holding here in a few weeks. And I'm not above begging. If you are willing to PayPal me $5 let me know, hahaha.
Now I'm not sure if I want to continue my plan of opening a salon or if I want to get into theater/film/TV. Either would be awesome.
Oh how I change life altering decisions so flippantly.