I get so excited with picking out gifts for each person in my family that I completely forget that I recieve things too!
Meridith woke me up just after 7 this morning and I was so tired I didn't want to get out of bed (I was up all night wrapping presents for my mom from my dad.) I finally dragged myself out of my room and down the stairs. Deborah and Aaron woke up Hyrum to join in the festivities.
It was such a fun morning. I gave my mom an Isaac Mizrahi jacket, a black skirt, a Monster Badminton set, and a subscription to Bon Appetit magazine; I gave my dad a Dirty Rotten Scoundrels DVD; I gave Aaron Monopoly (though Deborah probably suggested it because she wanted it, haha); I gave Deborah a subscription to Real Simple magazine; I gave Meridith a blush brush, and eyeshadow brush, an eyeliner brush, blush, eyeshadow, What A Girl Wants DVD, and pajama bottoms; I gave Hyrum pajamas, a baseball bat, and balls; and I gave Ezra a little stuffed frog--which Deborah is holding on to, as the little dude is still a fetus.
I have quite a few more siblings left :) I'm pumped for this afternoon when they all come over and I can list what I got everyone else. Woot!
UPDATE
I wasn't able to give Aaron Ray's family their stuff, and I'm going to give Elizabeth's family their stuff when they come up tomorrow. I gave both Richard and Clarke
iLamps
(everywhere I've looked online they are listed for $89+ each...apparently I got a good deal); I gave Suzanne (whose name I had for Christmas) a Bath & Body gift card and a Pier 1 gift card; I gave Abigail a Kelly doll set; I gave Parker a Target gift card so he could find a game for his GameCube; I gave Miss Ella Ella pajamas and a Christmas Morning Barbie; I gave Aliesha a Bath & Body gift card; I gave Alexa a Chutes & Ladders board game; and I gave Sophia a Care Bear (
Laugh-A-Lot Bear
, I felt it was appropriate coming from me) and teeny tiny hair clips.
Oh yeah...I received a few things as well ;)
Purple pajamas, that are matchy with the blue ones Meridith got, a screen protector for my new iPod from Clarke, a Target gift card from Aaron Ray,

A set of books including "Jesus The Christ"

Both "How to Say It" and "How to Say It At Work"

A GIANT box of Fun Dip (from Meridith)

Perry Mason on DVD (Season 1, Volume 2)

Ruby Earrings (these aren't the exact ones, but they look kinda like 'em)
Dad: "They're real."
Sus: "Real 'created' rubies."
Dad: "That's real! They're still expensive!"

A Casio Elixim Ex-270 (A red one, not this black)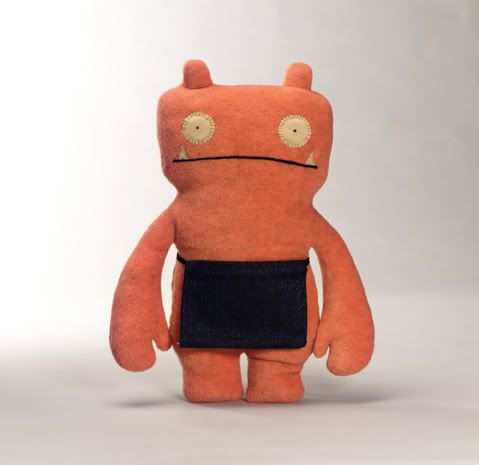 And an
Ugly Doll
from Rico's family.
And I got to feel Ezra move around! He kicked for Meridith, but just wiggled for me...oh well.