I suppose all adolescence could be described as "awkward", but I'm pretty sure mine had to be a bit
more awkward
(I totally thought 'awkwarder' then laughed REALLY hard) than your typical preteen if only because of the fact that at the age of 11-years-old I was nearing 5'8" and was far from flat-chested or thin.
I'm pretty sure my neuroses had to have begun at that time. Especially because that is the year I got my lovely knicknames at school like "Jolly Green Giant" and "Twin Tower", and was told I was fat and freakish. ...is it really all that shocking that I became a social phobic?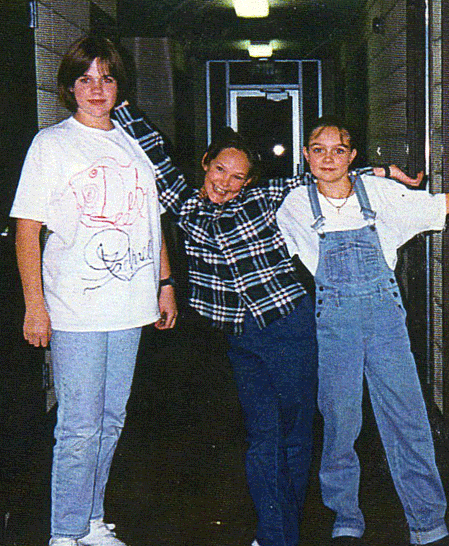 Susannah, Rachel, and Michelle -- all at 11-years-old. Older ladies and my mother often commented on my great posture, because apparently 'others like me' were so ashamed of their height that they wanted to slump to hide it...something like that.
---
While searching something completely unrelated, I stumbled upon myself online. I found a
Descendants of Susannah Young
site, and found pictures of my greatgrandparents and my grandfather that I had never seen. Unfortunately I do not have a name; I am child #6 Female LIVING.