There are very few reasons to look forward to Wednesdays. Those include CSI: NY and now Food Network's "Ham On The Street"
Hello, George Duran!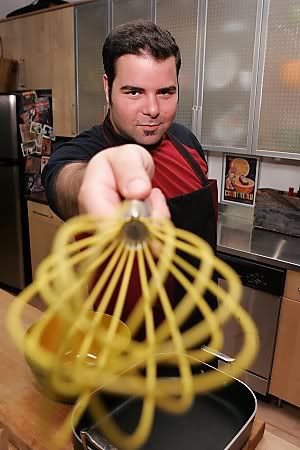 I have had many celebrity boyfriends come and go quickly but I'm pretty sure this one is here to stay. I think it was solidified when he deep-fried a fudgesicle or when he chopped up a giant chocolate bar with a machete. Hil.ar.i.ous!
From his Food Network bio:
FN.com: What do you cook to impress a date?
GD: Chocolate covered anything.

FN.com: What are 5 things you need in the kitchen?
GD: Five friends to help me wash the dishes.

FN.com: Describe your worst dining disaster.
GD: I once added salt instead of sugar for French toast. My friends loved it...go figure!

FN.com: What's in your fridge right now?
GD: A giant ostrich egg...no joke.

FN.com: Do you have any hobbies?
GD: Nude stamp collecting.

FN.com: What five foods can you not imagine living without?
GD: Freedom Fries, Freedom Toast, Freedom Dressing, Freedom bread, and especially Freedom Kisses.

FN.com: What foods do you think should be banished from existence?
GD: Cow brains.
Now he just needs to come to Las Vegas...sooner or later they all do, right? Come on, George.